SmartHeart Adult Dog Food
Rs. 2,430.00 – Rs. 2,450.00
Brand: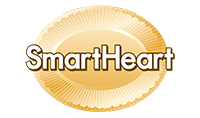 Smart Heart
Chicken And Egg Flavor
3Kg
... people are viewing this right now
---

Crude protein (min)
Crude fat (min)
Crude fibre (max)
Moisture (max)
Product Features
SmartHeart is meant to meet complete nutritional needs of adult dogs through its high-quality and balanced ingredients. Chicken and egg flavoured diet is further
enriched with the addition of fish oil
(storehouse of DHA and Omega-3 fatty acids) and Lecithin (rich in Choline). DHA and Choline promote the functioning of brain and nervous system.
While Omega-3 fatty
acids work to boost the health of heart. Balanced amounts of calcium and phosphorus enhance the strength of bones and teeth.
Body's power to thwart foreign organisms gets
strengthened with vitamin E and selenium.
The highly digestible food would also make the coat shine with health and wellness.